It is now 53 years since the Beatles split up. To put that in context, 53 years before the Fab Four parted ways was the Russian Revolution. The two survivors of the group, Paul McCartney and Ringo Starr, are in their eighties and are knights of the realm. The heritage industry which has grown up around the Beatles is a venerable juggernaut, and it has seemed for years now that we must know almost everything we can know about the four Liverpool lads and their transformative role in popular music. When Sir Peter Jackson released his eight-hour documentary, The Beatles: Get Back, in 2021, it was acknowledged as exceptionally thorough—Rotten Tomatoes called it "thrillingly immersive", though Alex Petridis warned it was a "threat to the viewers' sanity"—but many were having the same thought: 'that's it now, right?'
Now we have the last Beatles song, Now and Then, released on 2 November. Even this is a project of astonishing longevity. The idea of cleaning up one of John Lennon's old home-recorded demo tapes began in 1995, the year after Lennon was posthumously inducted into the Rock and Roll Hall of Fame, but initial work by the three survivors was abandoned after two days. George Harrison hated the poor quality of the demo, calling it "fucking rubbish", but rumours of resumption of the idea would not go away. In a 2012 documentary, McCartney mentioned the tape "still lingering around" and said that he hoped to "finish it, one of these days".
That day has now come. McCartney has partnered with Giles Martin, the son of the Beatles' fabled producer Sir George Martin, and Brum Beat legend Jeff Lynne to pull together fragments of music and voices combined with new vocal and instrumental tracks to make the band's epitaph. But what it is, exactly, we're being offered?
Now and Then is a four-minute ballad with the woozy, soft-focus psychedelic dappling of the Beatles' latter years. There is Lennon's voice, never less than mournful, supported by the real-life McCartney. Harrison's guitar, swooning but austere, is always mesmerising, and Starr's precise, unerring but idiosyncratic drumbeat underpins everything.
(The quip attributed to John Lennon, "He's not even the best drummer in the Beatles", probably emerged from BBC comedy in the early 1980s but has gained far too much currency; Starr is probably the most effective, and certainly one of the most recognisable, percussionists in rock and roll history.)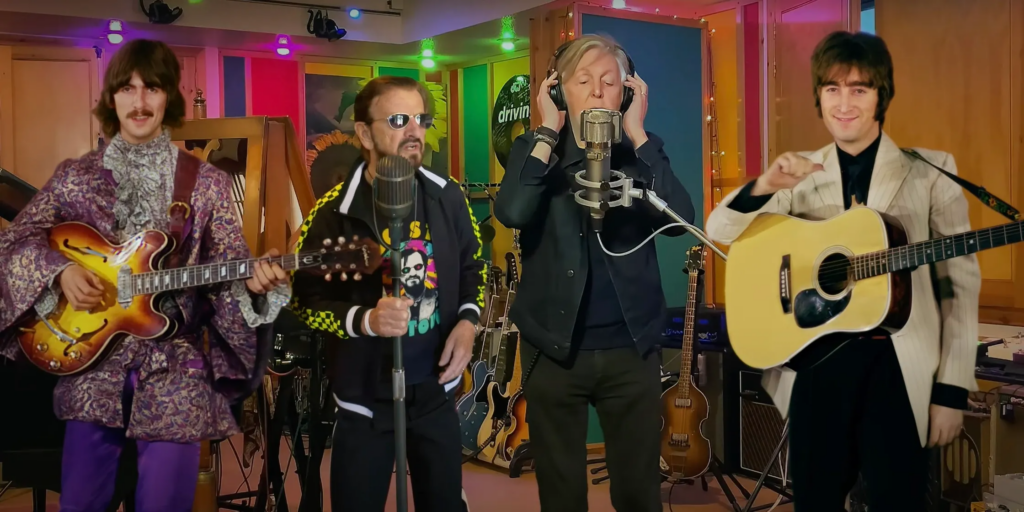 Above: a still from Peter Jackson's video for the new single
We have lush, swooping strings, too, arranged by McCartney, Martin and Doctor Who stalwart composer Ben Foster, and at one point they curdle into a minor key as if it was still 1967 and Sgt. Pepper's Lonely Hearts Club Band was still warm from the vinyl press. And it is a lovely song, an elegiac bowing-out, lyrically simple to the point of simplistic but immaculate and heart-rending. How could it not be? This is the Beatles, one of the greatest musical acts the world has ever seen. "And if I make it through," sings Lennon, "it's all because of you." We know he didn't, and yet he is one of pop's most enduring figures, and it is, little though he knew it, all because of them, the other three Beatles.
When they get older
It genuinely is heart-breaking. In a sense, this is the end, with a greater finality that we might have expected: even if anyone who was a fan in the band's heyday is now drawing a pension, the band has never gone away, and their legend has evolved and matured in the half-century since their abrupt dissolution at the end of 1970.
Even if new material slowed to a trickle of high-tech musical archaeology, this is still the Beatles, those timeless revolutionaries. But Paul and Ringo are old now, far beyond their three score years and ten. Now and Then has a certainty about it, a drawing of the line that calls to mind that devastating moment in the video of Hurt (2002) in which Johnny Cash's gnarled, Shy-Drager syndrome-ravaged fingers close the lid of his piano.
Of course there is a video for Now and Then, and of course it is directed by Peter Jackson. Naturally it is a nostalgic punch to the solar plexus, a dazzling mixture of contemporary images, footage from the filming of 1995's Anthology, unseen early images of the Beatles in their Hamburg-era leather suits provided by Pete Best and home movies of Harrison. Through this Jackson, who had never directed a music video before, wove special effects from his masterful Wētā FX studio. It closes with the Beatles fading to leave only a sign with the band's name in light, simple, powerful, and deeply affecting.
Jackson admitted "we needed the imagination of every viewer to do what we couldn't, and have each viewer create their own personal moment of farewell to The Beatles." It delivers with the power you would expect from a man who has won three Academy Awards and two Golden Globes. Yet it made me oddly uneasy. As a taut but emotional coda to the impossibly rich phenomenon which is the Beatles, it is little short of a masterpiece. But where does it leave the song?
Now and Then is a lovely thing, rich, textured, playful, serious but undaunted. But Beatles songs set standards of a stratospheric height. Is this the farewell they deserved? Is it a timeless classic worthy of their genius, which can go toe to toe with All You Need Is Love, or Eleanor Rigby, or A Day In The Life? Or is just a predictably gorgeous flowering of insane musical creativity which would have been proud to sit quietly on one of their 12 groundbreaking studio albums?
I don't know, and I don't think I will ever know. I can't tell, and in some ways it doesn't matter. Music, for all that it is a joyously shareable experience, is also intensely personal, the rhythms and harmonies that touch us at the deepest parts of our souls and which shape our lives and our memories. We will all, in the end, have to decide what we want Now and Then to be, what place and what purpose we want it take within our own pantheons, and that is a judgement so personal it is hard to express. After everything, though, it seems only fair that the Beatles have earned the right for us to do that. It is the last Beatles song. Make of that what you will.