A good writer can make an historical tale relevant for his own age. A great one can make it perennially relevant. That is what Arthur Miller's 1953 masterpiece The Crucible did: on the surface a tale of 17th-century witch trials in colonial Massachusetts, it was a clear allegory for the panic over communist infiltration of the United States in the late 1940s and early 1950s whipped up by Senator Joseph McCarthy. Yet the story of suspicion, polarisation and hysteria finds a renewed relevance in an age of 'cancel culture', social media hype and identity controversies over gender, politics and religion.
Next month sees the West End transfer of Lyndsey Turner's acclaimed production of The Crucible at the Gielgud Theatre. Running from 7 June to 2 September, the play stars Milly Alcock as the accuser Abigail Williams, Brian Gleeson as hot-tempered farmer John Proctor, Caitlin FitzGerald as Elizabeth Proctor, John's wife, and Karl Johnson as Giles Corey, Proctor's close friend. The original production ran at the National Theatre in autumn 2022, receiving Olivier Award nominations for Best Revival and Best Lighting Design by Tim Lutkin earlier this year.
Brian Gleeson as John Procter
This year is the 70th anniversary of The Crucible's first performance, at the Martin Beck Theatre on Broadway on 22 January 1953. Its initial run, starring E.G. Marshall, Beatrice Straight and Madelaine Sherwood, was not a universal success: even Miller himself thought it was cold and stylised. But it won the Tony Award for Best Play, and a new production in 1954 caught the public mood, establishing The Crucible as a central work in modern American theatre.
McCarthyism was still blazing its destructive trail across American politics. Ethel and Julius Rosenberg, convicted of espionage on behalf of the Soviet Union in 1951, were executed in June 1953 (only a few months after the play's triumph at the Tony Awards) and fears of Communist subversion in the entertainment industry was setting friend against friend and colleague against colleague. McCarthy himself was riding high and took the chair of a senate oversight committee, and Miller was questioned by the infamous House Un-American Affairs Committee (HUAC) in 1956 and was convicted of contempt of Congress for refusing to name suspected Communists – the HUAC had previously intervened with the State Department to refuse Miller a passport to attend the London premiere of The Crucible.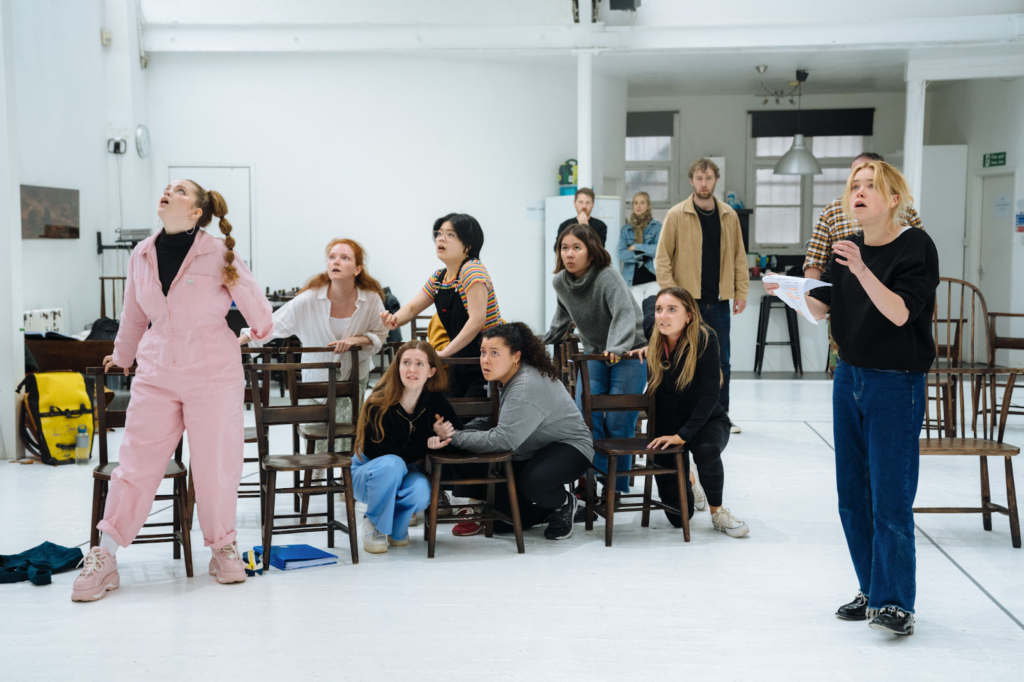 The line from Massachusetts to Washington is a direct one. The screenwriter and director Elia Kazan had named eight members of a New York theatre collective as Communists when  summoned before HUAC in 1952. Miller, after questioning Kazan about why he had testified, travelled to Salem to research the witch trials which had taken place there in 1692. He did not speak to Kazan for a decade, and when he wrote A View from the Bridge and sent the script to Kazan, the latter asked jokingly if he could direct it. Miller's response was brutal: "I only sent you the script to let you know what I think of stool pigeons."
The play
A witch hunt is beginning in Salem. Raised to be seen but not heard, a group of young women suddenly find their words have a terrible power. As a climate of fear spreads through the community, private vendettas fuel public accusations and soon the truth itself is on trial.
This production of The Crucible brings a punchy cast to the Gielgud Theatre. The West End is fiercely contested ground these days, and any staging which aspires to success needs solid theatrical pedigree but also a sprinkling of cinema or television stardust. The Crucible has plucked Milly Alcock (pictured top) from House of the Dragon and Caitlin FitzGerald from Masters of Sex, while Brian Gleeson has a CV which includes Peaky Blinders. Karl Johnson is a veteran of theatre, film and cinema, and has credits including Hot Fuzz, The Death of Stalin and Peterloo. Their challenge is to deliver a Crucible which tells Miller's tale, narrates the story of Salem, Massachusetts, and provides a sharp commentary on the modern world.
The Crucible runs at the Gielgud Theatre 7 June – 2 September 2023