Barnabás Lakatos Gelléri is a queer Hungarian artist. I say that at the beginning not because of any sense of prurience or even necessarily because it is a dominant visual theme in his work: to be not only out but a queer activist from Hungary at the moment is a political statement. The Hungarian minister-president Viktor Orbán, who takes the view that homosexuality is "not compatible with Christian values", is currently championing legislation which would ban content which is "LGBT+ positive" from films, books and advertising. Here, then, we have art which would arguably be illegal in the artist's home country.
Gelléri's work is bold and colourful, large mixed-media canvases which draw heavily on the aesthetics of street art. He uses a combination of oil paint, aerosol and delicate watercolour work, resulting in images which are textured yet have flattened perspective. He developed this style first at the Hungarian University of Fine Arts, then in a short stint in the fashion industry. "In today's world", he observes, "many different qualities can work side-by-side from an aesthetic perspective".
The paintings themselves revolve around the motif of the snake and the bull, which are wittily interchangeable, both depicted with large, limpid, feminine eyes. Again the artist's background is important: Gelléri comes from a religious family in rural Hungary—his father was a bishop—and he has adopted the image of the snake or serpent from the Old Testament. However, in a rather arch inversion of the Bibilical narrative, Gelléri uses the snake to represent not, as we might anticipate, temptation, disobedience or the fall of Man, but in fact the flip-side of that. For him, the snake is knowledge, luxury, freedom from authority: the message about the current debate in Hungary is obvious.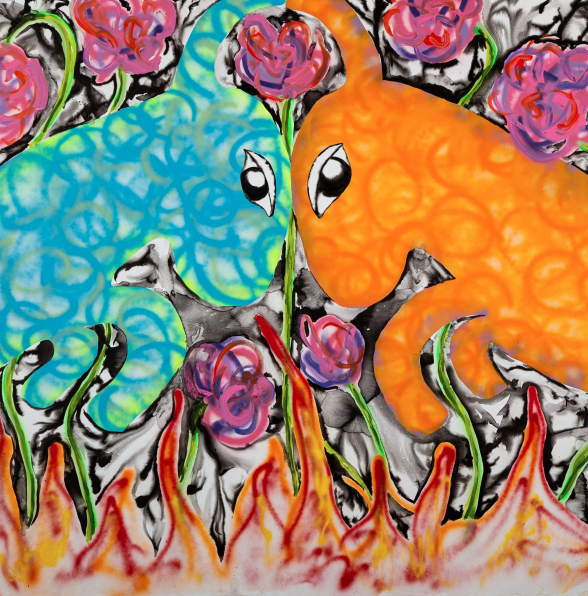 In works such as "Jumping Bulls", the ovoid head and doe eye of the snake transform into the head of the bull. This speaks to another aspect of Gelléri's identity, the image of the 'queer bull' in gay culture, a hyper-masculine (and often well-endowed) dominant gay man who seeks out submissive, sometimes non-consensual partners. The artist might almost be tweaking Orbán's nose: this is a profound example of where the personal is political.
Gelléri is an artist who requires context. He is a leading member of the Queer Budapest movement, an initiative which has brought together LGBT+ artists to promote the culture in which they feel they exist as well as being a protest against the proposed legislation of Hungary's Fidesz government. It is important to stress that the artists involved in Queer Budapest do not all produce what we would understand as queer art; some maintain an absolute separation between their art and their sexual identity, while for others, like Gelléri, the two are inextricably intertwined.
In aesthetic terms, Gelléri's work will appeal to those who are attuned to a certain sensibility: it is in essence Pop Art, making a virtue of its naïve technique and bold, simplistic lines. Its nod to the contemporary visual identity of street art reinforces that appeal. There is none of the formalism and economy of Lajos Kassák's Dada-influenced work, for example, or of László Moholy-Nagy's articulate but ruthless modernism. Reference has been made to Fauvism, which might be closer to Gelléri's vision in the sense of its chaotic flatness.
Ultimately, however, Gelléri's message is one so immediate and so heartfelt that the paintings are almost secondary, signposts to or shorthand for his political arguments. Their garish immediacy captures that, and perhaps that is enough.
The debate over expression and censorship in Hungary is an important one, and it has spilled over from central Europe to stand as a proxy for a wider culture war which drags in the repressive régime of Vladimir Putin and the obnoxious conservatism of the American alt-right. Gelléri is not yet 25, and this is his first solo exhibition. He has aimed a punch at the solar plexus of the artistic community which will resonate if it lands squarely, and that, I would argue, is no mean achievement.
David Kovats Gallery, 80 Long Acre, Covent Garden, London, WC2E 9NG, 5 August – 19 September 2021