There are lots of exhibitions advertised this summer. Most of us will see lots of exhibitions over the course of our lives. In a time of global devastation and loss, what really matters? Here's a good call, an exhibition you will remember for a long time is Epic Iran at the V&A, which runs until 12 September 2021. I have never been to Iran, but through the exhibition was able to see 5,000 years of the country's culture and people: glorious, beatific, quite unlike anything else.
There is so much to cover that the exhibition really needs seeing twice (at a minimum) to take it all in: 300 objects from a period scanning ancient, Islamic and contemporary Iran, all of them fascinating and meriting studied contemplation.
Amongst all of these, here are some highlights.
The Horoscope of Iskandar Sultan, 1411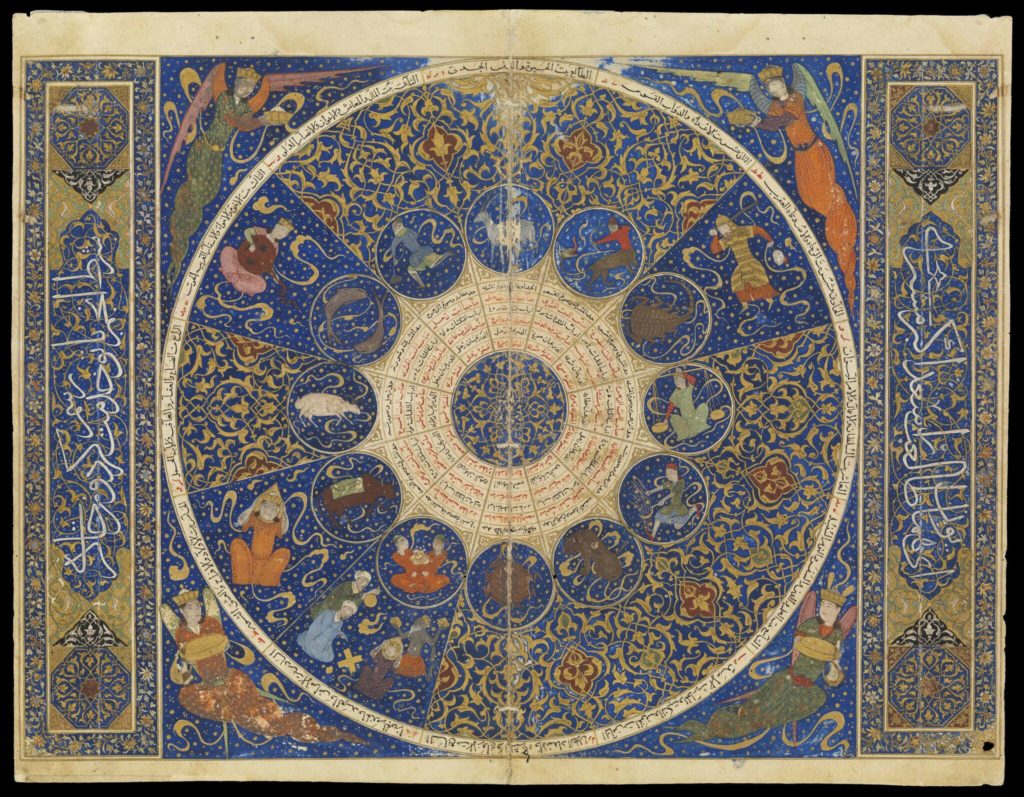 Iskander Sultan, writes Dr Nikolai Serikoff (Asian Collections Librarian at the Wellcome Library), was an ardent bibliophile and a patron of the arts: "His enthusiasm is witnessed by a number of exquisite manuscripts produced for him and now preserved in libraries around the world. The horoscope held by the Wellcome Library and now included in Epic Iran was cast on the 22nd of Dhu-l-Hijja 813 AH (18 April 1411 CE) by the court astrologer Mahmud Ibn Yahya ibn al-Hasan al-Kashi, in the second year of Iskandar Sultan's reign, when he was 27 years of age".
Iskander lived from 1384 – 1415: he was a member of the Timurid dynasty; he had broad intellectual, scientific and cultural interests (you will want to attend an exhibition about works created in this period alone!)
Oxus Treasure of the Persian Empire
Hushed, reverent silence in this section of the gallery as museum-goers look in awe at Achaemenid-era archaeological finds like the gold armlet from the Oxus Treasure Museum: made of massive gold and with terminals in the form of winged griffins. Gold armlets were particularly valued as gifts at the Persian court, and this one was made around 500BC.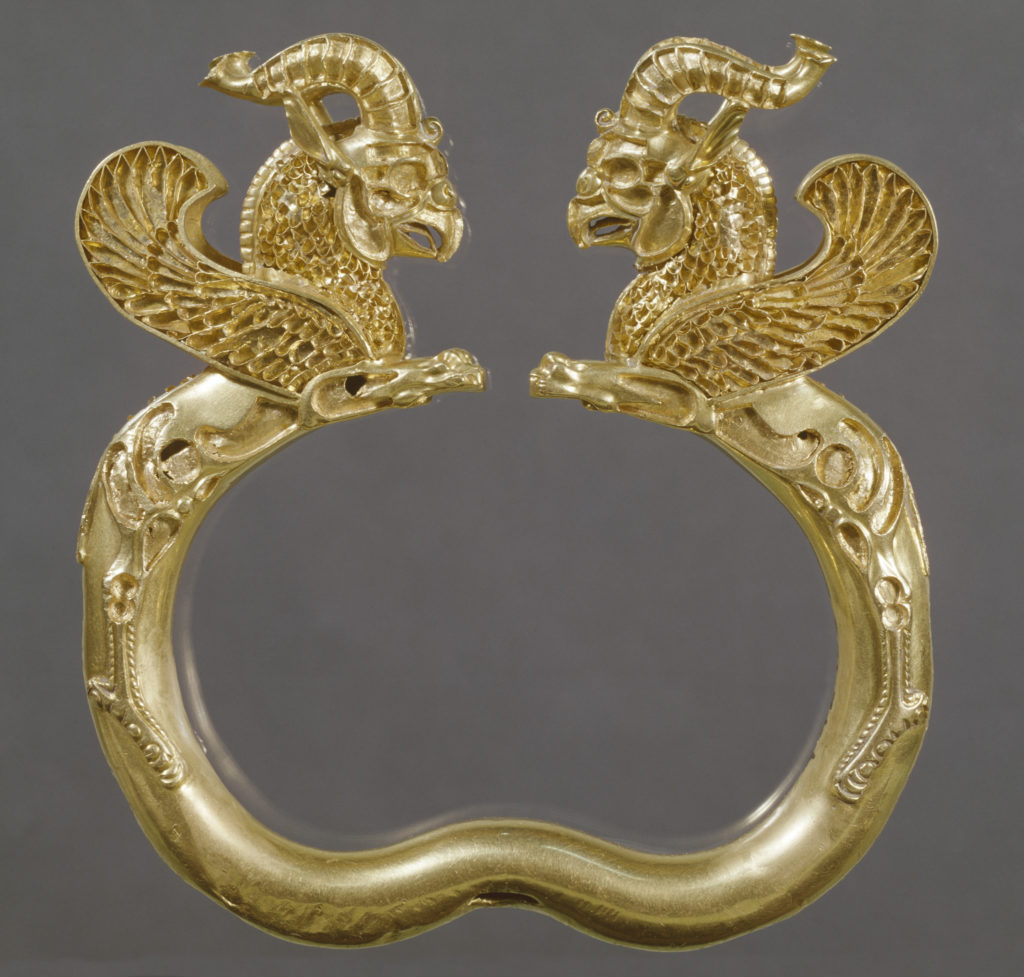 The Old and the New
Here the Qajar dynasty (1798 – 1925) are at once looking at the past to anchor themselves in history, as well as looking at their European counterparts in an exchange of arts and goods. Still, differences abide. Images of harems abound: wives, concubines and servants jostling for space, where a plaque informs viewers that "successful harems produced many children – the Qajar king Fath Ali Shah (reigned 1797 – 1834) reputedly had over 3000 descendants when he died."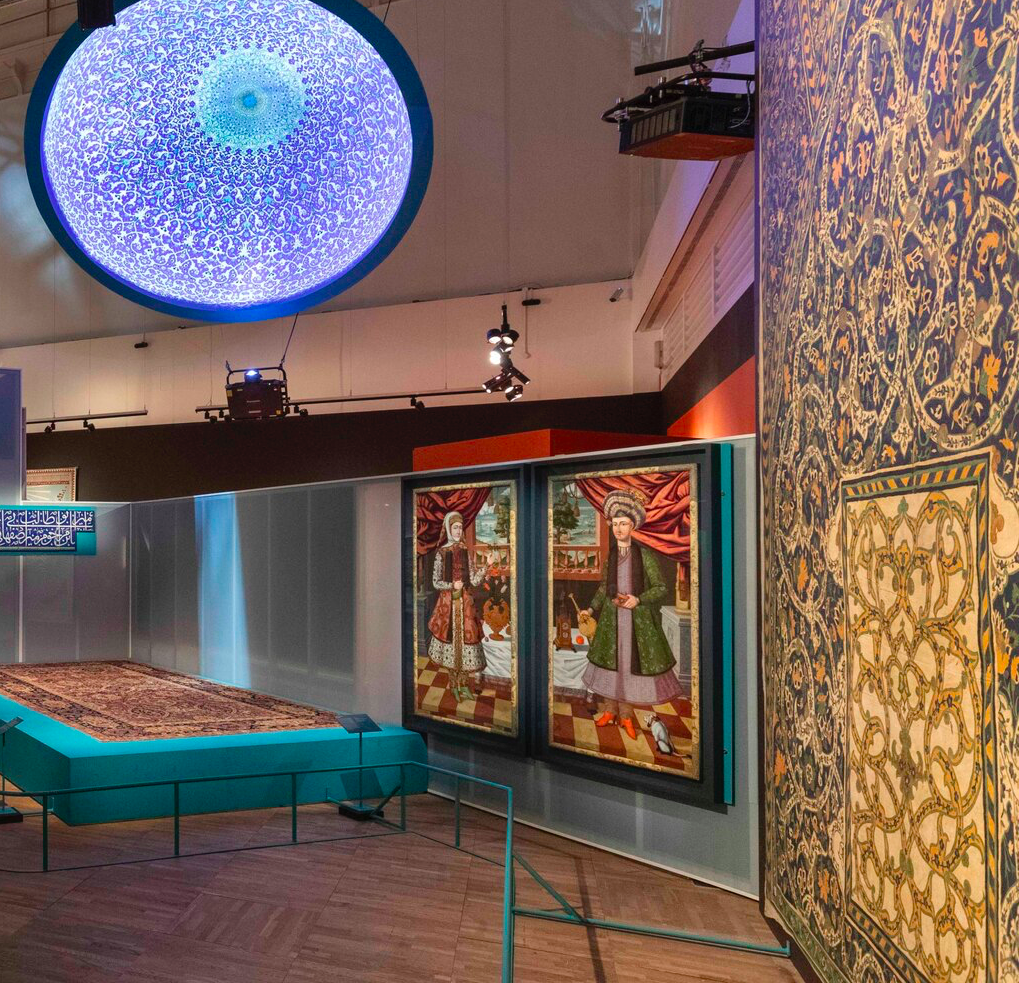 Modern and contemporary Iran (1940s onwards)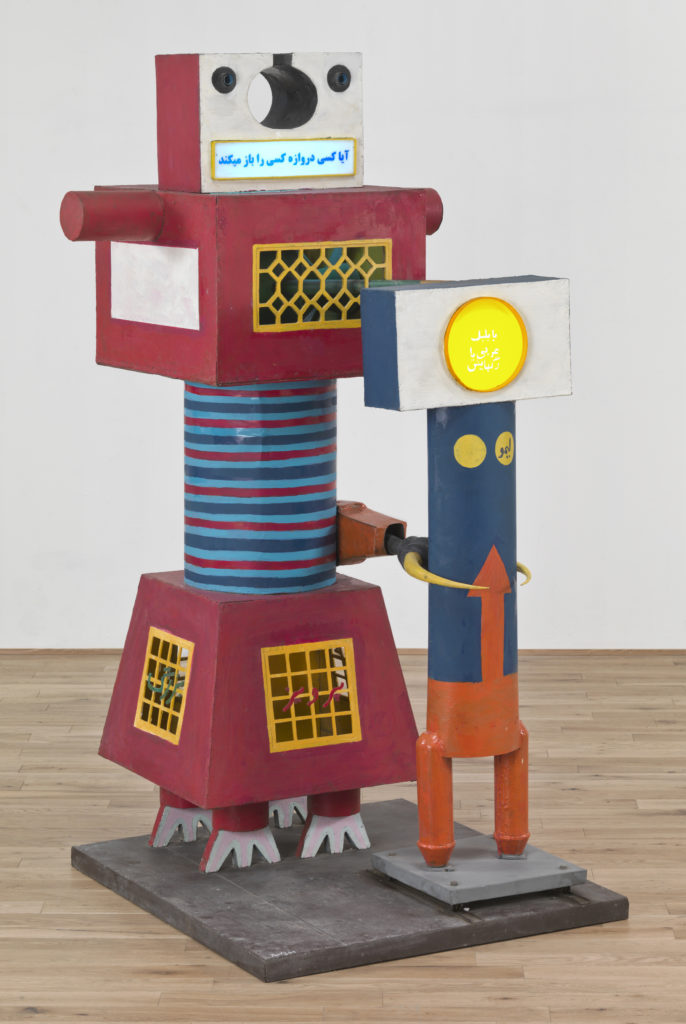 Spanning the 1940s to the present day, the final section Modern and Contemporary Iran covers the period of intense political change in Iran, encompassing increased political dissent, the Islamic Revolution, the Iran-Iraq War, and the establishment of the Islamic Republic. That is not to say that this section is without splendour: those whose sole impressions of Iran are gleaned from select publications will miss a great deal of the culture and beauty of the people of the nation. Take, for example, the humour of the modern sculpture The Poet and the Beloved of the King by Parviz Tanavoli (1964-66), a comical take in bright colours of the love story of Shirin and Farhad, written by Hakim Abol Qasem Ferdowsi Tousi (935–c.1020) as part of Shahnameh (977–1010), the national epic of Iran. The story is that stonecutter Farhad falls madly in love with the princess Shirin; her father, displeased, sets Farhad an impossible stonecutting task then lies to him that Shirin has died when the ardent stonecutter and would-be son-in-law seems to be succeeding in his mission: the grief-stricken Farhad then leaps to his death. Centuries later, Tanavoli has rendered the history with whimsy. The lovers are separated and frozen in their destiny, smiling grimly through gritted grill teeth and with lemons for breasts.
There is so much more to be seen. It's a unique and precious experience, intriguing, humbling, awe-inspiring. Quite simply: get tickets; go.
Epic Iran at the V&A, London SW7, runs to 12 September 2021. Organised by the V&A with the Iran Heritage Foundation in association with the Sarikhani Collection IMAGE TOP: Horoscope of Iskandar Sultan, 1411. Courtesy Wellcome Collection