For any actor with heavyweight pretensions, especially British actors with theatrical pedigree, Lear is one of the big characters. Michael Billington describes the role as "a theatrical Everest", and most of the major names have left their versions: John Gielgud (1931), Laurence Olivier (1946), Paul Scofield (1962), Ian McKellen (2007), Don Warrington (2016) and Antony Sher (2016). Some critics argue that it's a role which is hard to do badly, but it is generally one which has to wait until the latter part of a career (though Gielgud was in his 20s!).
Sir Kenneth Branagh's astonishing breadth and versatility can sometimes make us forget his status as one of our greatest auteurs and Shakespeareans. He already has Hamlet, Henry V, Macbeth and the Bard himself under his belt, and it was no surprise when he started talking earnestly about tackling Lear in 2019. Perhaps aptly for a Belfast native, he said that a major part of the play is a "tremendous lack of forgiveness… that is perhaps also something that our world is experiencing—a savage and judgmental and instant and violent division." Branagh grew up in a working-class Protestant enclave in the north of the city, but his family moved to England when he was nine.
The Irishman stays busy, and his film career has barely slackened even as the covid pandemic wrought its chaos, but in April this year he announced that he would star in and direct a production of King Lear by the Kenneth Branagh Theatre Company. There would be 50 performances at Wyndham's Theatre in the West End, then a run at The Shed's Kenneth C. Griffin Theater in autumn 2024.
Perhaps this is a little early. Branagh will turn 63 in December, but could comfortably pass for a decade younger, while scholars estimate Lear is imagined to be around 80; he describes himself as "Fourscore and upward, not an hour more nor less". There is a notion that, given the average life expectancy in the early 1600s, when the play was written and first performed, audiences would have regarded a man of far fewer years as still "old", but Elizabeth I had died at 69 in 1603 and had been in good health until close to the end, while her chief minister, Lord Burghley, had been within touching distance of 78 when he died, her lord high treasurer, the Marquess of Winchester, had died (in office) in his late 80s, and the new king James VI and I's influential tutor, George Buchanan, had lived till 76.
Aged or timeless?
The more important issue, though, is that Lear is exhausted, physically and mentally. The play begins with his plan to divide Britain between his three daughters, Regan, Goneril and Cordelia, so that he can give up the burden of kingship and effectively retire. Lear plans to divide his time between the three women, though there is a feeling that this is not entirely welcomed. This is Branagh's real challenge: can a man who played the central villain in Christopher Nolan's Tenet and had lugged an outrageous moustache around Europe and the Levant as Hercule Poirot, plausibly show a theatre audience an old man at the end of his tether?
While Branagh may already be a legend, he heads a strikingly diverse case of RADA graduates still in the first flush of their theatrical careers. Some are making their West End debuts: Melanie-Joyce Bermudez, who plays Regan, only left RADA earlier this year, while Eleanor de Rohan (Kent) has worked with Branagh on stage and screen but is appearing in the West End for the first time.
Acting is far too competitive a profession for anyone to get a bye, but it is important—and fair—to see a production in its proper context. The company Branagh has assembled is bristling with enthusiasm, and some of the players carry the swagger of life before hard lessons have a chance to intrude, but these are aspects of any live theatre, part of the warp and weft.
Here is the problem with this production: it's a rough, awkward and sometimes not-very-good staging of a one of the biggest of all Shakespearean dramas, but it's also a staging which has at its core the mesmerising, furious tornado of a performance which is Kenneth Branagh. Make no mistake about it: the Irishman will blow you away, flatten you with the way he can fill a stage, scour it clean of anyone else and then suddenly stop, as if on the head of a pin, and whisper his words with such rawness that it will open you up.
A case in point comes in the opening scene. Lear demands that his daughters proclaim their love for him, and on the strength of their feeling he will allot his lands as he gives up the kingdom. Goneril and Regan play their father's game, and please him, but when it comes to the youngest, Cordelia, she is seized by a manic but hazardous honesty.
I love your Majesty
According to my bond; no more nor less.
The small, slight Jessica Revell looks lost at sea. She knows this is how she has to respond but has no sense now of how to proceed.
Branagh's Lear is stopped in his tracks and coaxes his youngest daughter to think again. "Mend your speech a little," he advises her with more than a touch of menace, "lest it may mar your fortunes." Of course she does not. She cannot.
"So young, and so untender?" he asks. His voice is wavering. You can hear every minute, every second of Cordelia's life rushing through her father's mind as he struggles to absorb this betrayal. The very word, "untender", is drawn out, pain in every syllable, like a man on the rack.
"So young, my lord," she replies softly, "and true."
There is no recourse but anger then, towering, deafening, self-fuelling anger, and Branagh can put his back into fury. The words, the taunts, the curses pour out of him, so rapid and so precise that they are almost a hate-fuelled patter song, beating aside the entreaties of Cornwall, Kent and Albany for just a breath of moderation. Lear is screaming now, a raging storm of injury and incomprehension, and Cordelia can barely make him hear her last line of defence, that she may be a thing of hatred for her father now, but she is glad to lack:
A still-soliciting eye, and such a tongue
As I am glad I have not, though not to have it
Hath lost me in your liking.
Revell, like the audience, braces herself for the final blast. Branagh is winding up to deliver the coup de grace, then suddenly he is still, frozen. The text reads:
Better thou
Hadst not been born than not t' have pleas'd me better.
But Branagh's old king cannot say it. He chokes on "born", the word sticking like gristle in his throat. How can he say such a thing? How can he wish away the existence of his favourite child? His anger has led him inexorably here, but to see Branagh stop, pulled to a physical halt by the horrors which his own mind has produced, is devastating. If you don't think a play written four centuries ago can tear out a modern human heart, you haven't seen an actor of this quality at the top of his game.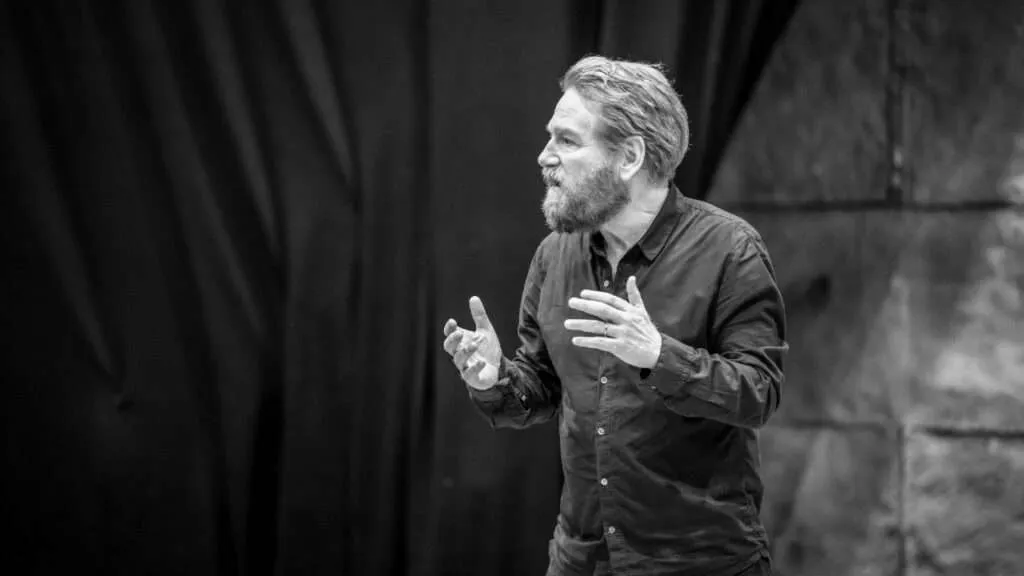 I could parse the whole two hours of the play to show off Branagh's performance from every angle and perspective. But it would render actually seeing the performance hollow. His trajectory through the role is hypnotic and terrifying, a man disintegrating inside not just from age but from the unbalancing of something deep inside him. He flails angrily, seeing his world first distort then dissolve in front of him, but he knows too that the sands are shifting inside him. Lear is going mad, and it is happening in a way that he can watch almost with dispassion. In fact, once the balance has tipped, once his reason is unrecoverable, a strange cheerfulness steals over him as his boundaries shrink. It is hard to watch, because we can see what he cannot, that this is a terrible death spiral which cannot have a happy ending.
Sure enough the ending is not happy. To watch Branagh cradling Revell is his arms, his fingertips still touching reality even if his grip is gone, is an agony. He rages at the world, at the way his existence is collapsing, he lashes out at Kent and Albany.
Howl, howl, howl, howl! O, you are men of stone.
Had I your tongues and eyes, I'd use them so
That heaven's vault should crack. She's gone for ever!
This is unbridled, desperate anger, steeped in bitterness, but it is unwinding into that most unbearable of emotions: bleak emptiness. One of the greatest hammer-blows which grief delivers is not pain or sadness but permanence. The dead are gone and they will never return. There is no salve for this. Shakespeare shows us the final moments of Lear's life, reason and language falling away, like a music box winding down. Branagh gives you not just the death of a person but a personality, personhood.
And yet… to take Branagh out of this staging leaves a flimsy show. Sensibly, Branagh as director has chosen the cinematic device of making it a two-hour performance with no interval. This worked: there is a kind of mimsy pretence about stepping away halfway through the action to crowd around overpriced drinks and compare notes about how the play is unfolding. It's almost as if Branagh says to us, 'come on, grow up, this is two hours: you can do this'.
A stormy setting
The set design (Jon Bausor) began well. There is a great whirling sky above the cast, cloud and stars wheeling past. But it begins to feel cramped and constricting, as if every scene plays out at the bottom of a quarry. And the costumes, also Bausor's work, were generically confusing: there are animal skins and leather-gartered leggings, a primitive aesthetic that seems almost neolithic. Each actor carries a stave, or stick, or spear, depending on the circumstances, and while this allows for one or two powerfully percussive moments as the wooden poles clash together, it is almost a proclamation of the minimalism of the accessories: these are symbols, it seems to say, not just of a spear or sword, but of the idea of props at a deeper level.
Aletta Collins's choreography wobbles sometimes. I felt that a week or two more in rehearsals might have given the vigorous young players that last veneer of precision; and the fight scenes arranged by Bret Yount again feels representative rather than visceral. A battle acted out has the faintest whisper of a push of pike, promising all the weight and stress of that fight to the death at close quarters, but again, the overall effect flops limply. Some falls and deaths are perfunctory, lacking commitment and therefore robbed of drama, and this sense of going through the motions makes the play feel flat.
The performances are not poor. Deborah Alli, vibrant, compelling and witty (not least as Aretha Franklin in James Graham's Best of Enemies), delivers a sour, cynical Goneril, transnational and distant. As Regan, Melanie-Joyce Bermudez is more elusive, shifting this way and that and seeming different in every light, but it can seem directionless rather than quicksilver. Revell, who shines as Cordelia, is also eye-catching in her turn as the Fool, but her performances, especially the musical interludes, seem lightweight. It is a role with so much richness and potential, almost colluding with the audience, holding up to the characters a mirror to see themselves as others see them, but there seems no room for her to breathe and unfurl herself in this performance.
Corey Mylchreest plays the illegitimate schemer Edmund finely, weaving delicate threads around half-brother Edgar (Doug Colling) and presenting a properly textured Machiavel, but the great magnates, Burgundy, France, Gloucester, Albany and Cornwall are a stolid dramatic shield wall, drivers of plot more than zesty, lifelike characters. Often they show their fundamental masculinity through their bellowing presences, but rarely do they invite curiosity or make you want to yearn to know more about them. I remember playing a brutally martial Menelaus in a sixth-form iteration of Euripides's Iphigenia at Aulis, and acting-by-shouting -and-marching brought back a lot of memories.
In 2015, Geoffrey Rush played Lear in Sydney, and remarked to a journalist that "Lear is a confrontational play, not just in what it demands of the main actor but of all the actors; it's really not a one-man show." The flip side is, as Rush observed, the old king does in fact have no fewer than a third of the lines in the play. Here, it has been staged explicitly as a one-man show, and, deliberately or not, Branagh makes it one too.
Kenneth Branagh is an actor who fizzes with energy, as with the additional duties of direction on his shoulders, may have seen huge potential and satisfaction in harnessing his long years to lead a young cast who will learn on their feet. I'm sure they will. But he also throws every ounce of himself into playing Lear, and he is simply so good, so powerful that when he is on stage, you cannot look at anyone else. Why would you? His Lear is not just a man or a character but a fiery column of anger, despair, bitterness and fear. He is a monarch falling apart, his rule slipping from his hands but his sanity fleeing too, and he can see it happening, inexorably and irrevocably. The chain of events which is set off when Cordelia shocks him with her quiet but implacable honesty is no less compelling for its inevitability, and it is a kind of long, grinding suicide note of an exhausted psyche.
You should see this play. Branagh will be remembered as one of our great actors and a passionate Shakespearean, and you should not pass up the opportunity to see what he makes of the great tragedy of Lear. He is a howling gale, a furious, roaring storm, who shows us our own most unimaginably painful emotions magnified and pulled apart. And when Lear dies, having seen and understood every last facet of his closing days and hours pulled apart, it is the sudden void at the heart of the performance, more than any bellowed decibel, which is deafening and impossible to stand. I don't think I was the only one in tears as we stood to applaud. Kenneth Branagh reached into his very core for this performance and the result is shattering.