The account of the recent wedding of Tatler magazine's Beauty Editor-at-large Francesca White inspired CulturAll editors Eliot Wilson and Frances Forbes-Carbines to recall their time as esteemed guests at the marriage of Peleus, hero of Thessaly, to the sea nymph Thetis: a beautiful ceremony filled with wonder and luxury, but not without its dark cloud in the form of the Apple of Discord via disgraced wedding-crasher Eris.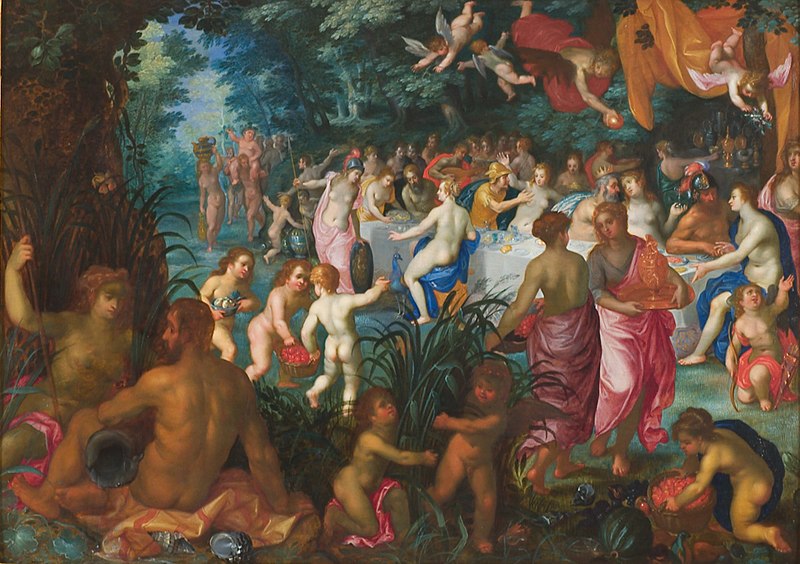 "There really was such an amazing crowd; really, all the Great and the Good – many of the Olympian gods were in attendance, including, as I recall, Poseidon, who gifted Peleus these two incredible immortal horses called Balius and Xanthus (who, I've heard, are actually the offspring of the harpy Bodarge and of the the West wind, Zephyus!). Fitting wedding presents indeed for when one weds an Ocean goddess such as Thetis. This paled in comparison, however, to Aphrodite's wedding gift: a bowl with Eros embossed on it. A touch of luxury! Athena gave the couple a flute, which frankly I thought a lot less relevant than the horses or the Eros bowl. It's like, come on, it's a wedding! Gifts ought to be romantic.
There was, unfortunately, a spot of bother at the wedding when Eris turned up: truly the spectre at the feast. The happy couple hadn't invited Eris – quite understandably; who'd want the god of Strife at their matrimonial proceedings?! – and then worst of all, Eris produced the Apple of Discord. How very inappropriate, we guests all thought. It's a custom at weddings, of course, for the blushing bridge to toss a bouquet into the crowd of maidens, for the lucky catcher to be granted by the Fates the next girl to get wedded, but this Apple of Discord chucked into the crowd was quite another matter: the apple was inscribed "For the Fairest", and Hera, Aphrodite and Athena all scrabbled for it in such a way that was not befitting of goddesses, nor less esteemed guests at a society wedding.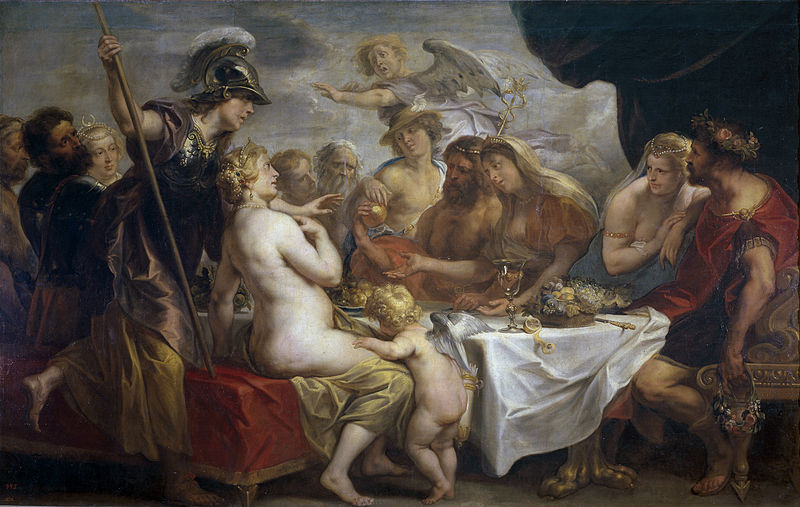 Anyway, we turn to the important matter of Who Wore What. Athena was there in full splendour, carrying her signature helmet and spear, her grey eyes set off by an understated necklace of slate-hued freshwater pearls; her tunic dressed up with a brush of glamour by way of a golden braided belt. A reserved, timeless and classy look. Aphrodite, aware of her powers and not wishing to steal thunder away from Thetis on her big day, wore a rather basic shift dress in a dusky rose pink chiffon; her blonde hair was lifted into a soft bun through which her tresses strayed temptingly; she wore little in the way of jewellery other than a small pendant necklace and a dainty bracelet of coral beads on her left wrist.
How to wind up a romantic wedding? Tatler's Beauty Editor-at-large, Francesca White, and her new spouse wrapped it all up in a rather unusual fashion:
The next morning the couple recovered with IV drips back at home (a wedding present from Francesca's friend, Dr Sophie Shotter) before launching into a BBQ in their Islington garden.

"Inside the wedding of Tatler's Health and Beauty Editor-at-Large", Astrid Joss, November 2021
By way of contrast, the wedding of Peleus and Thetis ended rather more abruptly, what with Eris' unfortunate arrival and production of the Apple of Discord, but all in all the wedding was a success.