How often do you see wild animals first-hand? How often do you lose yourself in nature? Will opportunities to do either of these become fewer and fewer in our lifetimes? There's a beautiful exhibition on at the Herbert Art Gallery and Museum in Coventry and it's worth seeing. UnNatural History is a major exhibition focusing on natural history and climate change that looks at environmental urgency through a quizzical, revelatory and unusual lens. It damns, but it contains hope. It's curated by Invisible Dust, who work to "make the invisible, visible" and who do so by working with scientists and leading contemporary artists, collaborating on projects across jurisdictions. It's part of Coventry 2021 Capital of Culture: the postwar city of concrete highlights its joy and power in defiance of outside pressures.
The installations are both startling and humbling. We just don't have the opportunity to come face-to-face with nature – take pollution and cramped housing, for instance, and add long commutes and long work hours. Take strip-lit, subterranean workplaces and homes. These are all factors highlighted by the pandemic: the claustrophobia of lockdown; the loneliness; the inequalities of societies; the uncertainties; the divisions – but they existed long before the pandemic and scientists and artists have been talking about them for years.
Look out especially for an installation by Danish artist Danh Võ, who works between Berlin and Mexico City: his work addresses how natural history exploration was complicated by the ideological histories of colonialism; in this instance, how Jean-André Soulié, a French religious missionary and amateur botanist, 'discovered' and named indigenous plants of Vietnam. Across the way, botanical paintings from prolific nineteenth century biologist Marianne North are spectacular to behold. There is a surprise olfactory display; there are taxidermied animals; there is a lovely short film by Doug Aitken about animals and their migrations. There are things to surprise and delight even the most jaded critic and yes maybe doyennes of the art world will have seen some of them before; this time you'll be looking at them again with new eyes: perhaps alone, perhaps with old friends, perhaps with new friends.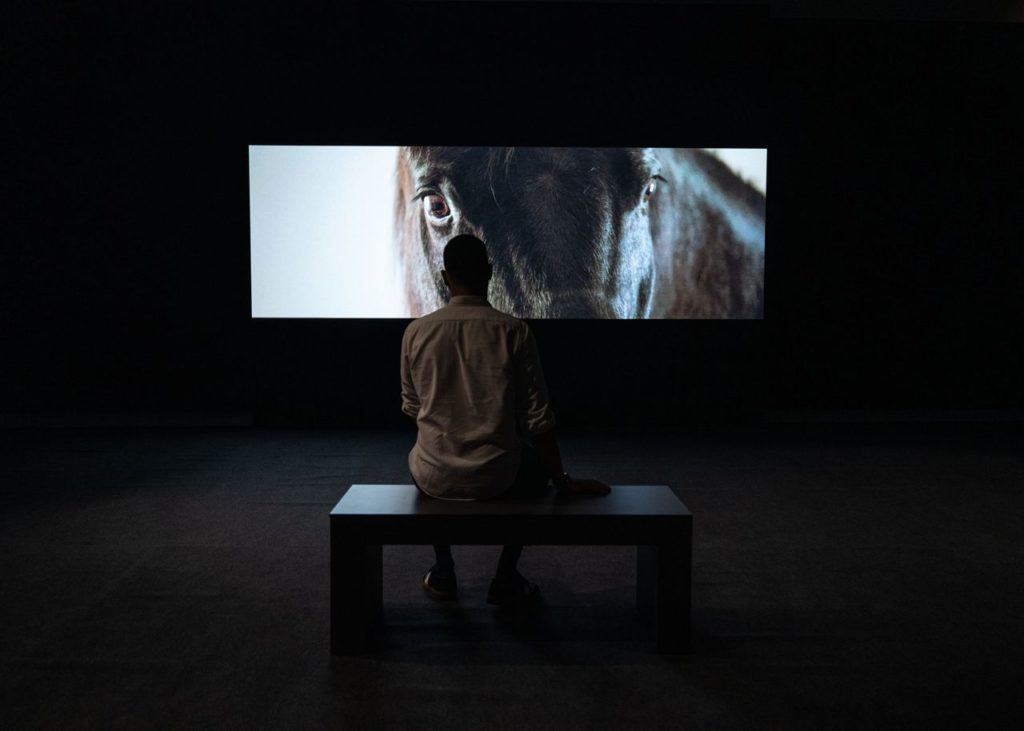 The artists featured are: Christina Agapakis, Alexandra Daisy Ginsberg & Sissel Tolaas, Doug Aitken, Angela Brazil, Gerard Byrne, David Claerbout, Mat Collishaw, Dorothy Cross, Frances Disley, Dubmorphology, John Gerrard, Alex Hartley, Andy Holden, Gözde İlkin, Tania Kovats, Michael Landy, Tony Matelli, Wangechi Mutu, Marianne North, Calvin Pang with David Robinson, Raqs Media Collective, Lisa Reihana, Sonya Schönberger, Yinka Shonibare, Sarah Sze, Francis Upritchard and Danh Võ.
It's easy to go away from the exhibition with a renewed sense of love of nature and a desire to do things differently, whatever your role in the world: so many people passionate about telling stories that need to be told, looking to the past to better the future. Not many art exhibitions have a similar offering.
UnNatural History, a major exhibition curated by art and environment organisation Invisible Dust, opens at the Herbert Art Gallery & Museum from 28 May and runs to 22 August 2021. Image TOP: Andy Holden The Oologists Record