LGBTQ+ history has become the order of the day—not only due to Sue Sander's and Paul Patrick's stunning initiative launching it in 2005, but now thanks to Channel 4 and Russell T. Davies's It's A Sin. Davies's brilliant writing and characters take us back to the mid-1980s, when the shadows fell across our community like never before. Tears are shed on a Friday night (or throughout the night if you gorged on the series, like me) but there is anger and sadness too. Yet for me and many others this is not just history. We lived through it. We were lucky to survive the AIDS/HIV pandemic and the utter savagery of those times, and the period following.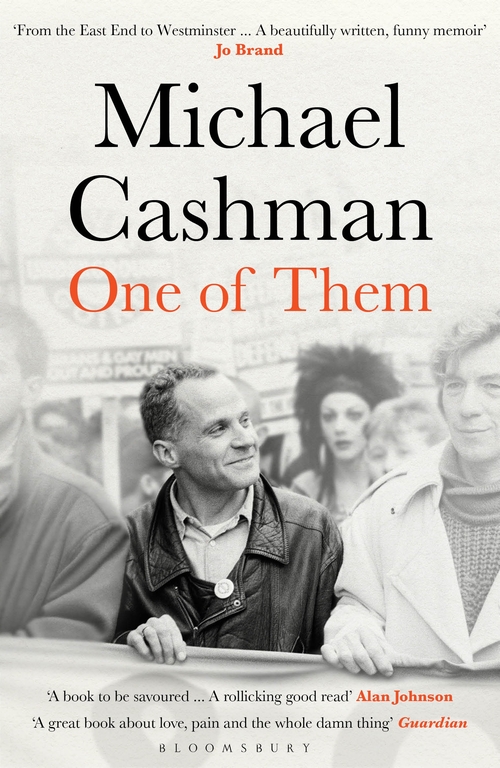 All of this and much, much more is remembered in detail in my memoir One of Them (published today in paperback by Bloomsbury). For I was not only there, with my wonderful late husband Paul Cottingham: I was playing a gay man in Britain's most popular TV show, EastEnders, and I was on the frontline.
In 1986, EastEnders was attracting over 11 million viewers an episode; it was screened twice a week and repeated on Sunday afternoon. The on-screen stories and the lives of the stars filled the front pages of the tabloid papers. I loved the show, but never thought I would be in it—you will have to read the book to find out why—then suddenly there I was at BBC TV studios in Elstree secretly rehearsing and recording my episodes. But it wouldn't be secret for long. One morning I headed for my local tube station to go to Elstree and it was then I saw my face staring back at me from the front page of The Sun which screamed "EastBenders". The story was out that gay 'Colin' and his boyfriend would "mince" into the show.
There was outrage as moral campaigners, politicians and newspaper columnists denounced the BBC for putting 'homosexuals' into a family show, and one that went out before eight o'clock in the evening. Within hours I was offered a substantial sum of money to give a Sunday tabloid my life story, with the added proviso that the 'life story' could be whatever I wanted it to be. Of course, I declined; it was clear they wanted to build me up to pull me and the character down. The work and our lives were too important to risk.
I had expected tabloid interest, and so too had the producer Julia Smith. When I first met up with her and Tony Holland (EastEnders co-creators), they told me they had been trying to cast a straight actor to play the part because it would have been easier for all concerned. They insisted they wanted me to play the part, and when I asked how to handle the tabloid intrusion they replied that they couldn't advise me.
Casting new light
So began my two and half years on Britain's favourite soap. Gary Hailes joined me as Colin's lover, Barry. Here again, the show was daring because he and Colin were living together before Barry had reached the age of consent, then 21. There is a wonderful scene—which you can watch on social media—between Barry and Dot in the laundrette when she learns that not only do they sleep together in the one pair of sheets but Colin and Barry are 'omosexuals' and Dot scurries away, a hankie covering her mouth for fear of AIDS. The show would go a lot further, and in January 1987 would face calls for Colin and Barry to be axed or the show taken off air. The cause of the outrage was Colin placing a kiss, a peck, on Barry's forehead! For the most part we just got on with our work, episode after episode, and the BBC ignored the rising criticism. Though there was one episode when top floor executives stepped in to demand changes—which Julia Smith refused.
Further calls for the show to be axed came in 1989 when Colin kissed his new partner Guido on the lips. This simple goodnight kiss was portrayed as a 'sex scene' between 'yuppie poofs' and that the BBC had gone too far. Yet the public, for the most part, took a much more liberal line. They knew Colin: he came into their sitting rooms three times a week. He was ordinary, non-stereotypical, and Dot was his friend; Pauline Fowler (Wendy Richards) his cleaner. And that was the stroke of genius—he was a part of a community and got on with his life.
The two and half years I had on the show rank as life-changing. During that time, as AIDS and HIV were decimating our community, the Conservative government introduced Section 28, the first anti-LGB law in a hundred years. It was designed to push us firmly underground, but we and our wonderful allies rose up. I joined the campaign against the law along with Ian McKellen and so many others. We were there in the media and at Westminster, and we were on the demonstrations, including the amazing march in Manchester which saw over 20,000 people take to the streets.
"if we feed intolerance eventually it will feed on us"
Section 28 became law and out of that defeat we established Stonewall to campaign for legal equality and social justice for LGB people—we took up the 'T' much later. And I am immensely proud we have, because if we do not advance together we do not advance at all.
Equality means enjoying the same legal rights and the same protection of the law. The same. I find it indefensible and deeply offensive how the trans community are under constant attack as they are defamed, misrepresented and stigmatised. We must not stand idly by; it has echoes of decades earlier when they attacked LGB people. We must stand together.
History reminds us that equality is achieved across thousands of generations of sacrifices and that if we feed intolerance eventually it will feed on us. Do not let history repeat itself.
Baron Michael Cashman CBE is a member of the House of Lords and founder of Stonewall. He is also a former MEP