This conversation took place over Zoom in February 2021: a discussion of how São Paulo's cultural institutions have met the changes brought about by the pandemic: hopes, aims and actualities.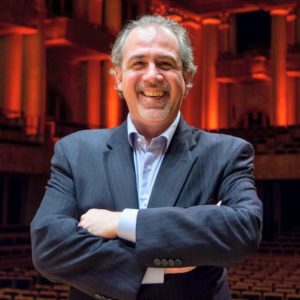 How did you first become interested in music?
As a child I started playing the piano; my mother and my grandfather used to play. At 17 I decided to do business administration at law school, unsure about pursuing music to make a living. Having completed this course I decided that it was not what I wanted, and started instead to do undergraduate arts programmes and graduate programmes, resulting in a PhD in Music.
I studied composition and classical music, thinking that my life would be that of a performing musician. I was later invited to run programmes: at Theatro Municipal São Paulo last year; Theatro São Pedro back in 2017.
In 2008 we started to manage two major music education programmes, social inclusion and musical education programmes reaching almost 20,000 children in the outskirts of the city of São Paulo, enabling the children to study music for free.
We also run the music school of the state of São Paulo. Both programmes have, give or take, 600 employees. The music education programmes were my first job as director; later, we started to manage the theatres.
What's the cultural offering of São Paulo like, and how has it been affected by the pandemic?
Theatro Municipal São Paulo is a venue that has been running for over a hundred years: an opera house, concert music and ballet theatre with 1,700 seats. We also run another smaller theatre called Theatro São Pedro which has also been running for a hundred years. Together they are the oldest cultural institutions in the city of São Paulo that are still active.
Theatro São Pedro also has an orchestra for chamber music and smaller operas. Both of them were closed in March last year. Both of them have resident artistic groups: Theatro São Paulo has 280 artists: a big symphonic orchestra; two choirs, one for opera repertoire and the other one for other repertoire, especially Brazilian music. There is also a dance company with 34 dancers. We also have a string quartet. They all stopped working on stage and started to work from home. At Theatro São Pedro we have an orchestra of 35 musicians, there is a smaller orchestra. But they also stopped, as well as all the staff from both theatres.
In September, we started to do concerts again but only broadcast online. It was very controlled, every two weeks everybody's tested and all the protocols of distance are adhered to on stage. So we had to rethink all the programming because the repertoire plan before the epidemic was inadequate for the new demands for protocols. So on stage, we can accommodate 52 positions the most. And the orchestra has 110 positions so I have to rotate them and the same thing with the dancers and the choir. Everything has changed. 
The challenge of repertoire: how have you dealt with it?
We had to rethink the artistic programming for the past year. We have presented the programming until June because we don't know exactly what's going to happen if the constraints are the same in the second part of the year. We will keep doing what we are doing right now. We are still hoping that things improve once vaccines are here, and that we can have more people not only on stage but also as an audience. In November, we were allowed to bring the audience back into the theatres, with 40% of seats occupied.
It's also a challenge because of the economical balance of our budget, because it depends on our box office. Without selling 60% of our seats, the productions had to change. The reality for 2021 is for us right now, it's still very similar to what was the second part of last year. We still have 40% as the limit for audiences, and additionally we have these constraints that limit the number of artists on stage. Plus, the shows and performances cannot be longer than one hour, without intermission. These factors mean that it's expensive to put on a concert. There are big challenges in terms of the financial visibility of our productions in the near future. In 2021, at least, there is the challenge of what to do in terms of repertoire, because we are doing, as I said, programmes that don't demand all our artistic groups, only a few of them, and we have to rotate them so that it's not everybody that is working full time. Of course among the general public there are still a lot of people that are not willing to leave home, so this is another factor to take into consideration.
During this time we've really started to do live broadcasts, using Instagram, using YouTube, Facebook etc. This was a challenge for us: demanding of investment in terms of digital equipment, editing and sound editing. Everything that we do right now is live broadcast: we thought that this would be the best policy, so more people will know about us. But we've had to offer that for free. We don't monetise yet, this kind of broadcast, so it's an expensive project, and it doesn't bring revenue right now. But it's an investment to bring new audiences to know more about what we do there. And I believe that if you can keep this financial balance until the end of the year, the following year you will benefit from this new public that has somehow reached through the social media and YouTube, they have reached our content and they might be a potential public for the future. So I do think this is the one strategic point to think about. This is a big question. The other one is how to balance the number of artists because we didn't fire anyone: we kept everybody on.
It's very different from the US; from the Metropolitan; from other big houses: we've kept everybody working, being paid to also work the way they could. But this also is a challenge, I don't know if we can sustain this for longer than this year. So it's a big challenge to know how we can achieve economic critical balance in next year, in the following years. It's very important for you to know that our fiscal year begins on the first of January and ends on December 31. So it's different from Europe and the US.
It's not clear right now how the 2021 season will pan out, I have to plan: programming with more constraints than we have right now, with the same constraints and with fewer constraints. So I have three options, meaning I have to make very quick decisions. It's usual for organisations as large as ours to have difficulty as we have almost 550 employees. It's a challenging time for us.
Do you compose or perform yourself, now?
I perform less often now but I accept some commissions to write music: it's less than I wanted, but it's what is possible. Every two years I write something during the holidays. I'm happy that I'm still close to music: somehow I'm still connected, programming music, helping people to learn music. This is, in a meaningful sense, what is most rewarding.
Paulo Zuben is the cultural director of Santa Marcelina Cultura, a non-profit organization that promotes training and culture for the transformation of communities. Santa Marcelina Cultura is in charge of managing the main education programmes in the State of São Paulo: GURI (a musical programme for children living in disadvantaged areas of the São Paulo metropolitan area) and EMESP (a musical conservatoire)
IMAGE TOP: Arthur Costa